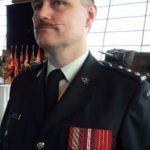 Captain Steven Dieter is a Public Affairs Officer in the Canadian Armed Forces. After serving in the Cadet Instructor Cadre as an Air Force Officer, and as Adjutant of the Princess of Wales' Own Regiment (a Canadian Army Reserve Infantry Regiment), he is currently posted to the Assistant Deputy Minister (Public Affairs) section as part of the Strategic Joint Staff Public Affairs team. Captain Dieter has previously worked at Canadian Forces Health Services Group, Canadian Joint Operations Command, and with the Royal Canadian Air Force Command in Ottawa, as well as the Senior PAO at 8 Wing Canadian Forces Base Trenton, Ontario. He served as the Canadian Armed Forces' communications lead for the Royal Tours of the Prince of Wales in 2009, Her Majesty Queen Elizabeth II in 2010, the Duke and Duchess of Cambridge in 2016, and the Prince of Wales and the Duchess of Cornwall in 2017. He has deployed domestically on Operation NANOOK (2008) and Operation FORGE (2011); and deployed to Jamaica on Operation JAGUAR (2011). He served on ceremonial taskings to France and Belgium in 2007 with the PWOR, the Netherlands in 2010 (in support of Veterans Affairs Canada), and Germany in 2014 (to support the interment of remains identified by Casualty Identification). In October 2016 he was designated the first Public Affairs Branch Historian.
Captain Dieter holds both General and Honours Bachelor of Arts degrees in History from Wilfrid Laurier University; a Bachelor of Education degree from The University of Western Ontario; and a Master of Arts in Military History from Norwich University. His studies at Norwich allowed him to be accepted in Pi Gamma Mu, the International Honor Society in Social Sciences. He is a Fellow of the Royal Society for the encouragement of Arts, Manufactures and Commerce. He has been presented with the Canadian Forces' Decoration; the Queen Elizabeth II Diamond Jubilee Medal; and the Minister of Veterans Affairs Commendation for his work in Jamaica, which was featured by the CBC during Remembrance Week 2011. In 2017 he was presented the Sovereign's Medal for Volunteers for his service both with the Royal Canadian Legion, as well as his historical work in the communities in which he has lived.
In 2002 he was recognized as an Associate Air Force Historian by the Canadian Air Force Office of Air Force Heritage and History for his contributions to Canadian military aviation history. Between 1990 and 1994 he was a former volunteer, Director and Secretary of the Billy Bishop Heritage in Owen Sound, Ontario; in 1993 and 1994 he also served as Chair of the Billy Bishop Centennial Committee, and as Museum Historian. In addition to his five years as a volunteer at the Billy Bishop Museum in Owen Sound, he aided the City of Waterloo, Ontario with its "Sons of Waterloo" memorial campaign, producing the information booklet for the 1995 memorial rededication and a pamphlet for the 1997 unveiling of the "Sons of Waterloo" photo exhibit at Waterloo City Centre. In 2008 he was a member of the Royal Canadian Air Force team tasked to work on the Canadian Centennial of Flight project; his work included an article in the Royal Canadian Air Force Journal.
Since 2005 he has served as Eastern Ontario Coordinator for The Maple Leaf Legacy Project, a volunteer effort to photograph grave markers of Canadian service personnel around the world. He has also served as a historical consultant for the United Kingdom's Imperial War Museum's "War Diary Project" and the Australian "Fallen Diggers Project."
He is involved with several charitable orders and groups, including the Equestrian, Secular and Chapterial Order of Saint Joachim, where he sits on Grand Chapter as Grand Military Knight. He is also an Honorary Colonel and Aide-de-Camp to the Governor of the Commonwealth of Kentucky. He has also served as a Director on the Ottawa Commandery for the Military and Hospitaller Order of Saint Lazarus.
Over his 25-year involvement in the Royal Canadian Legion, which began in Owen Sound as a member of the Colour Party, he has served on Branch Executives at Fred Gies Branch 50 Kitchener, Waterloo Branch 530, and Eastview Branch 462 Ottawa; as Zone C-2 Public Relations Officer, and as Zone G-5 Secretary, Public Relations Officer, Sergeant-at-Arms and Honours and Awards Chair; as District Public Relations Officer for District G (with concurrent position on the Ontario Command Provincial Public Relations Committee). In 2013 he was Parade Marshal for the Vanier Remembrance Day Parade and Ceremony. In 2014 and 2015 he was the Veterans Contingent Commander for the National Remembrance Day Ceremony in Ottawa. In 2014 he was privileged to be one of the first to receive a Poppy from His Excellency the Governor General during ceremonies at Rideau Hall.