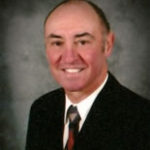 As Treasurer for Wreaths Across Canada, Bob is responsible for keeping the financial books of account, recording all receipts and disbursements, preparing annual tax returns and periodic financial reports.
Bob is a Chartered Professional Accountant (C.P.A, C.G.A.).  He retired from the Federal Public Service in 2004 at the Director-General level, after a 35-year career in the financial field, with several Government Departments & Agencies — Service Canada, Justice, Indian & Northern Affairs, Western Economic Diversification, Regional Industrial Expansion, Customs & Excise, Secretary of State, Agriculture, Industry, National Museums of Canada.
He is a recipient of the Public Service of Canada Outstanding Achievement Award (1999), the Deputy Ministers Outstanding Achievement Award from Indian and Northern Affairs Canada (1999), and the Deputy Ministers Outstanding Service Award from Western Economic Diversification Canada (1997).
Bob was born and raised in Ottawa and is married with four children (two daughters and two stepsons) and five grandchildren.