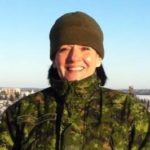 CWO Tremblay enrolled in the Canadian Forces in 1983, after completing the Administrative Clerk Qualification Level 3 Training she was posted to Ottawa in February 1984. Private Tremblay was posted to Canadian Forces Base Moose Jaw in the summer of 1984. In July 1987, promoted to Corporal, she was posted to 5 Service Battalion in Valcartier, Quebec.
In July 1989, Corporal Tremblay was again posted to Ottawa. In February 1992 she was posted to 1 Service Battalion Calgary where she completed a United Nations Peacekeeping Mission in Cambodia in 1993. Promoted to Master Corporal, she was subsequently posted to Kingston, Ontario in February 1994. After three years in Kingston, Master Corporal Tremblay was then posted to Borden in July 1997.
Upon promotion to Sergeant in 1998, and due to her extensive Army background she reassigned to the Army element from the Air Force. In 2004, upon promotion to Warrant Officer, she was posted to Petawawa. In August 2010 she deployed to Afghanistan with The Joint Task Force Headquarters as the Chief Clerk. Upon her return to Canada in July 2011 she was promoted to the rank of Master Warrant Officer and posted to Ottawa.
From July 2014 to April 2016, she had the distinct pleasure of being selected as a Career Manager for her Occupation.
In April 2016, she was promoted to the rank of Chief Warrant Officer.
Cindy has volunteered with Wreaths Across Canada since July 2013. Initially as the Organization's Secretary and is now assisting as the Director of Ceremonies.
Cindy has one daughter, Kassandra and is very proud of her grandson, Myles.