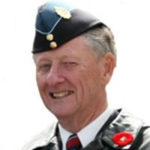 In 2008, WREATHS ACROSS CANADA was established by Craig McPhee, a retired Warrant Officer of the Royal Canadian Air Force (RCAF).

Early in 2007, Mr. McPhee visited Arlington National Cemetery, in Virginia, USA, where he was awestruck by the thousands of wreaths that were placed on the headstones.   Mr. McPhee discovered that Wreaths Across America was responsible for this endeavour, and this inspired him to do the same for the men and women of the Canadian Armed Forces, that lie in military cemeteries and plots across Canada.

On December 12, 2009, the first WREATHS ACROSS CANADA Service of Remembrance was held at Mount Pleasant Cemetery, in St. John's, Newfoundland and Labrador.  On that historic day, 800 wreaths were placed upon the headstones of our fallen heroes.

On December 4, 2011, the inaugural WREATHS ACROSS CANADA National Service of Remembrance was held at the National Military Cemetery (NMC) located in Beechwood Cemetery, Ottawa.  This national event was presided over by General Walter Natynczyk, (then) Chief of the Defense Staff (CDS) for the Canadian Armed Forces.  Over 2,800 wreaths were placed on the headstones by over 1,500 people that attended the service.  The National Services of Remembrance have been held at the NMC each year since then.

In December 2014, WREATHS ACROSS CANADA reached out to Winnipeg, Manitoba.  For the first time in Manitoba's history, a balsam wreath laying service was held at the Brookside Cemetery Field of Honour.  This was accomplished with the collaboration of Canadian Forces Base Winnipeg, Bison Transport, the City of Winnipeg, the Canadian Cadet Organizations, and the Knights of Columbus .

In December 2015, WREATHS ACROSS CANADA launched a new branch at Notre Dame Cemetery, in Vanier, Ontario.